NIFS joins the fight against COVID-19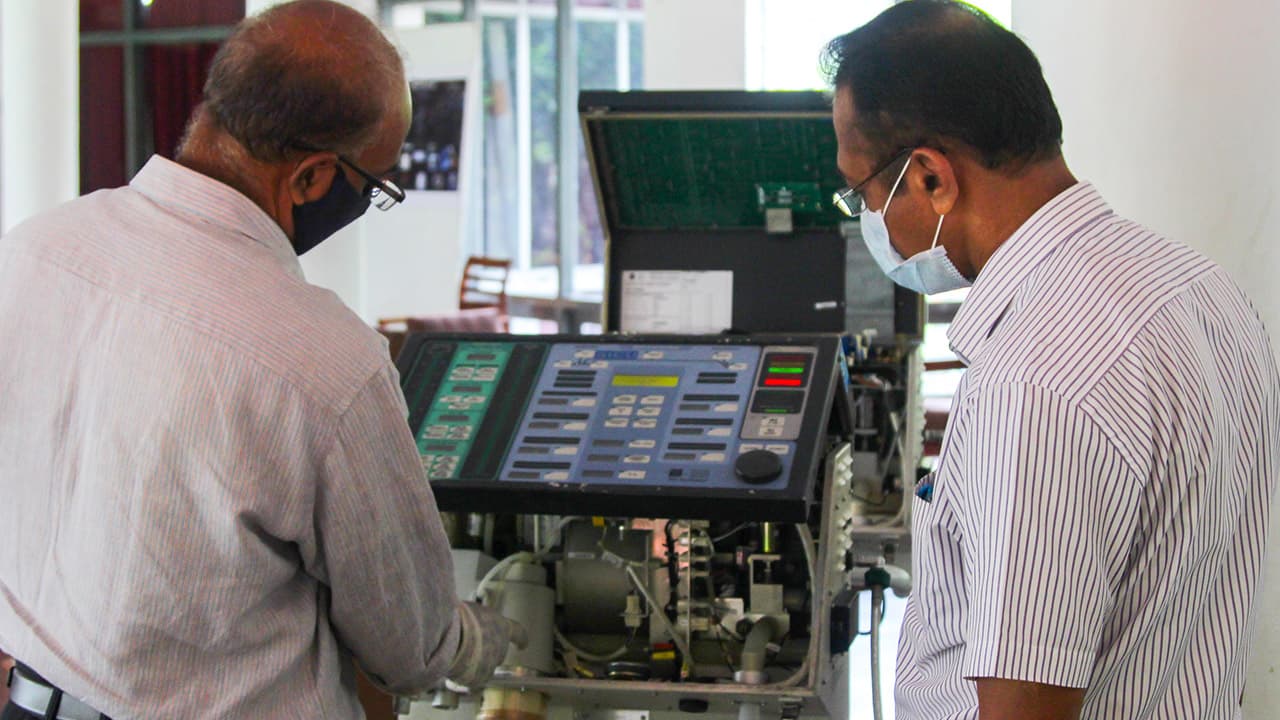 The NIFS is working under the following projects to fight against COVID-19
Ongoing Projects
Development of a rapid diagnostic test kit to identify COVID-19 patients
National Institute of Fundamental Studies (NIFS) is leading the project in collaboration with the Industrial Technology Institute (ITI) and Sri Lanka Nanotechnology Institute (SLINTEC) to develop a rapid diagnostic test kit to identify COVID-19 in suspected patients. This will be introduced as a cheap and quick alternative to currently available real time PCR based method.
Development of a makeshift ventilator
We help to develop a makeshift ventilator to meet the potential demand of the country as the number of COVID-19 patients increase. This makeshift ventilator will cost only about one tenth of an imported ventilator. This is jointly undertaken by National Institute of Fundamental Studies (NIFS) and University of Peradeniya.
Repair existing ventilators
At the moment, there are over 100 damaged/out of service ventilators in National Hospital, Kandy and Peradeniya Teaching hospital. The NIFS team is working on repairing/ modifying the existing ventilators for reuse and so far 10 ventilators have been repaired and handed over to the hospitals.
Sodium hypochlorite generator
Sodium hypochlorite (0.1- .05 %) is a WHO recommended disinfectant for cleaning and sterilizing surfaces, floors etc. in public places including hospitals. Because of oxidative action and alkalinity, it destroys all bacteria and viruses even in low concentrations. There seems to be a shortage of hypochlorite everywhere and the demand has escalated. As a solution, The NIFS team developed a prototype low cost sodium hypochlorite generator that generates hypochlorite using common salt and water in very simple electrolytic process using a solar power.
Biofilm biofertilizer for eco-friendly paddy cultivation in Sri Lanka
During the COVID-19 pandemic, Biofilm biofertilizer (BFBF) developed by the NIFS has been distributed to about 15,000 acres of paddy cultivation in Kurunegala and Ampara districts  in current Yala 2020 season as an eco-friendly relief package under the guidance of HE President. This program is being conducted by the NIFS in collaboration with the National Fertilizer Secretariat and the Department of Agriculture of the Ministry of Agriculture.
Innovations and re-engineering projects of Sri Lanka Army
The NIFS contributed to the Innovations and re-engineering projects of Sri Lanka Army to prevent COVID-19 Pandemic, by providing them with technical support and consultancy in developing a UV lamp and a low-cost Sodium Hypochlorite generator.
Other Contributions to COVID-19 by the NIFS