How to
How to make sodium hypochlorite solution
Prof. Kirthi Tennakone
Published on Sun, 03/29/2020 - 10:58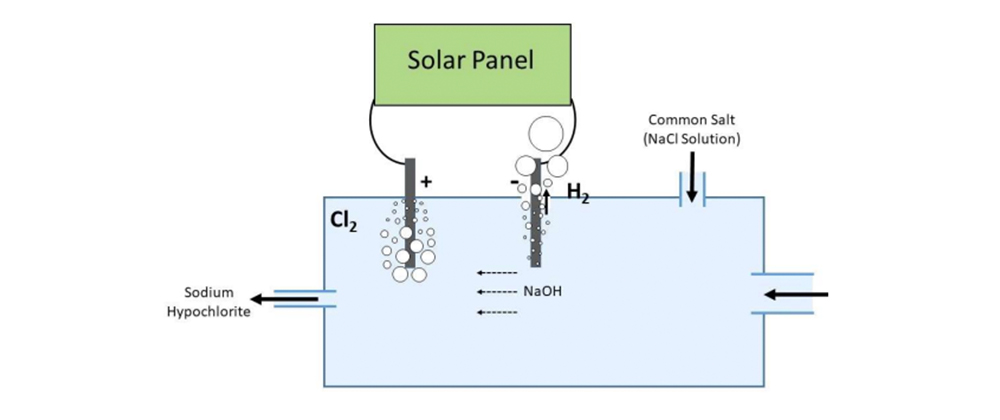 The sketch illustrating the method was drawn by Kasun Jayanath Wimalasena
Sodium hypochlorite (0.1- .05 %) is a WHO recommended disinfectant for cleaning and sterilizing surfaces, floors etc. in public places including hospitals. Because of oxidative action and alkalinity, it destroy all bacteria and viruses even in low concentrations. There seems to be shortage of hypochlorite everywhere and the demand could escalate in near future. 
Hypochlorite can be made using common salt and water in very simple electrolytic process using a solar panel as follows: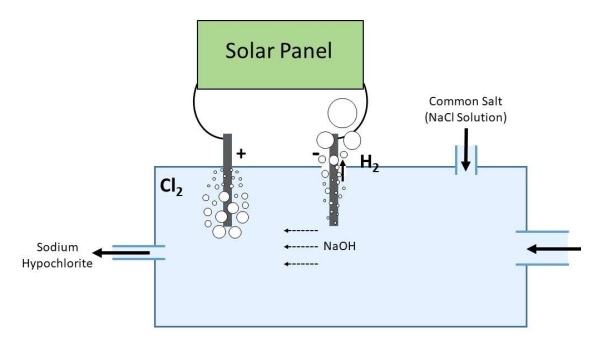 The figure above is a chamber with an inlet for water, outlet for sodium hypochlorite solution and another inlet for feeding NaCl solution. The black thick lines are two carbon or graphite electrodes. Near the negative terminal there is a vent to escape hydrogen
Reactions at the electrode are: 
2Cl- → Cl2 + 2e- (positive electrode) 
2H+ + 2e- → H2 and OH- + Na+ → NaOH (negative electrode) 
NaOH produced near the negative electrode is carried away by moving water towards the positive electrode, where it reacts with chlorine to yield sodium hypochlorite 
2NaOH + Cl2 - NaCl + NaClO + H2O
System may be further improved to create turbulence near the positive electrode to ensure mixing of chlorine and sodium hydroxide and designing ways to expel hydrogen from the electrolytic chamber to reduce the back reaction between hydrogen and chlorine and avoid diffusion of hypochlorite towards the negative electrode.
The bleaching action of hypochlorite can be tested with flower pigment squeezed into water. The pH of 0.1- 0.05 solution is in the range 10-9. Low pH solutions are more unstable. For storage pH should be in the range 10-11
 
Warning: Never try this experiment using A.C supply with or without D.C converter and solar panel voltage should exceed ~ 15 V. Instead of a solar panel 12 V battery can also be used. If hydrogen is accumulated explosions could occur. Avoid exposure to chlorine which could chronically irritate the respiratory system. Hypochlorite is corrosive and could harm the skin or eyes. The authors are not responsible for any accidents resulting in trying this process.
Adjunct Professor
National Institute of Fundamental Studies
Sri Lanka
Email : kirthi.te@nifs.ac.lk
Research Professor
National Institute of Fundamental Studies
Sri Lanka
Email : kumara.as@nifs.ac.lk