Annual Research Review - 2022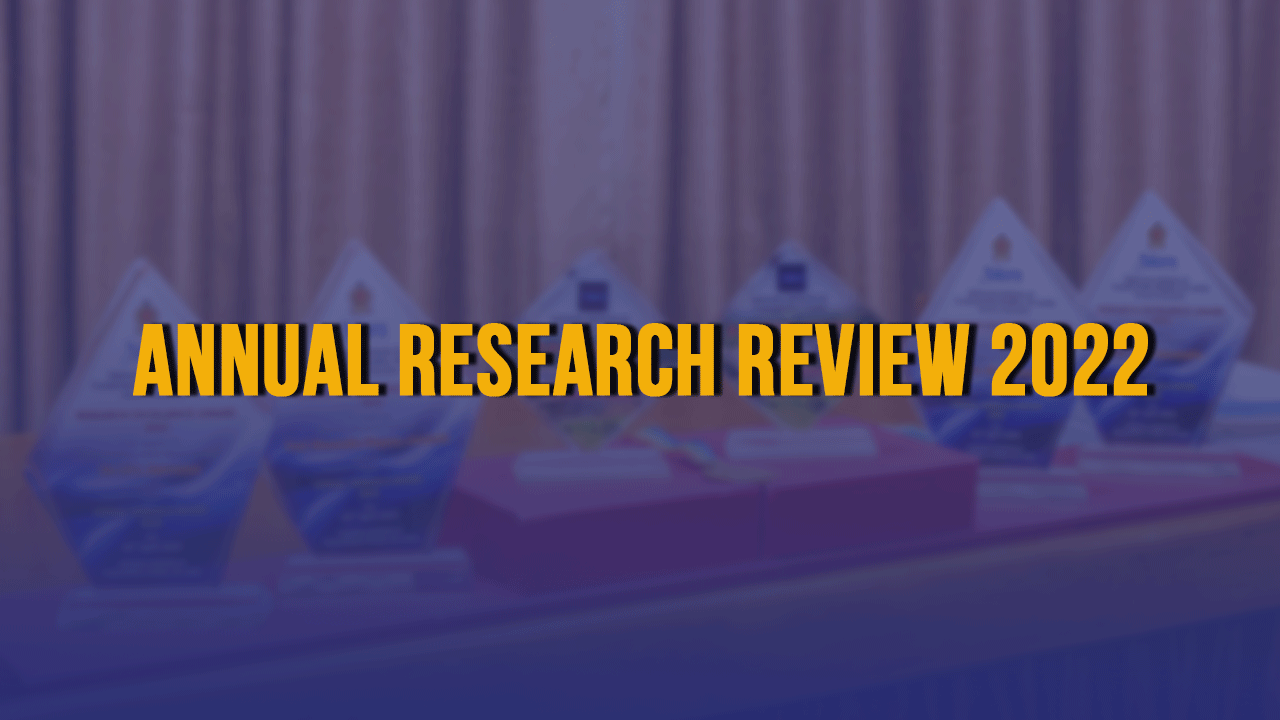 The Annual Research Review (ARR-2022)  of the National Institute of Fundamental Studies (NIFS), Sri Lanka, was held on 4th April, 2023, at the Prof. Cyril Ponnamperuma Auditorium, NIFS, Kandy. Prof. Sirimali Fernando, Secretary General of the National Commission for UNESCO, graced the occasion as the Chief Guest.
The welcome address was delivered by Prof. Saluka Kodituwakku, Director of the NIFS.  The welcome speech was followed by the address by the Chairman of the Board of Governors of the NIFS, Prof. Athula Sumathipala. The Chief Guest, Prof. Sirimali Fernando also addressed the gathering. Prof. Dhammika Magana-Arachchi, The Chairperson of the organizing committee, delivered the vote of thanks.
The Keynote Address of the ARR-2022 was delivered by Prof. Surangi G. Yasawardene, Senior Professor of Anatomy, Department of Anatomy, Faculty of Medical Sciences, University of Sri Jayewardenepura. During the technical sessions NIFS scientists presented the progress made in their respective research projects during the year 2022. The technical sessions were chaired by Prof. Athula Sumathipala, Prof. A. Pitawala, Prof. S. Kodituwakku, Prof. S. Rajapaksha, Prof. D. Subasinghe, and Prof. Wolfgang Dittus. The event was concluded with final remarks by the Director of NIFS, Prof. Saluka Kodituwakku. 
Several awards were also presented to the academic and non-academic staff of NIFS appreciating their performance and contribution towards research and the institute. For the very first time, one gold medal was awarded to a Research Assistant for research excellence, and certificates were presented to research assistants for scientific publications in referred journals.  The following staff members were presented with awards for their contributions in 2022.
Most Outstanding Researchers
Prof. U. L. B. Jayasinghe - Senior Research Professor Category

Prof. R. Weerasooriya - Research Professor Category

Prof. D. N. Magana-Arachchi - Associate Research Professor Category

Dr. I. P. L. Jayarathna - Senior Research Fellow / Research Fellow Category
Research Excellence Award
Ms. Rasika Gunarathne – Research Assistant
Award for Scientific Publications
        Dr. Premarathna  M.                           Ms. Kumari J. M. K. W.                            Mr.  Medagedara A.
        Ms.Premarathne B. M.                       Ms. Narampanawe H. M. H. I.                 Ms. Saseevan S.
        Ms.Samarakoon K.                             Ms. Abeysinghe A. M. A. M.                    Mr. Ekanayake S.
        Ms.Ulpathkumbura B. S. K.               Ms. Thilkarathna M. P.                              Ms. Hettiarachchi M. S. H.     
        Ms.Bandara W. R. U. A.                                              
Service Awards
        Ms. G. W. R. P. Chandrakanthi          Mr. N. P. Athukorla                             Mr. W. G. Jayasekara Banda    
        Mr. H. M. B. A. Herath                        Ms. S. S. K. Sakalasooriya                 Mr. D. S. Jayaweera     
        Ms. R. C. K. Karunaratne                   Mr. A.V. A. P. Kumara                         Mr. M. A. Lal                          
        Ms. M. K. Nissanka                            Mr.  D. G. Gunathilaka