Three-Minute Thesis Competition Winner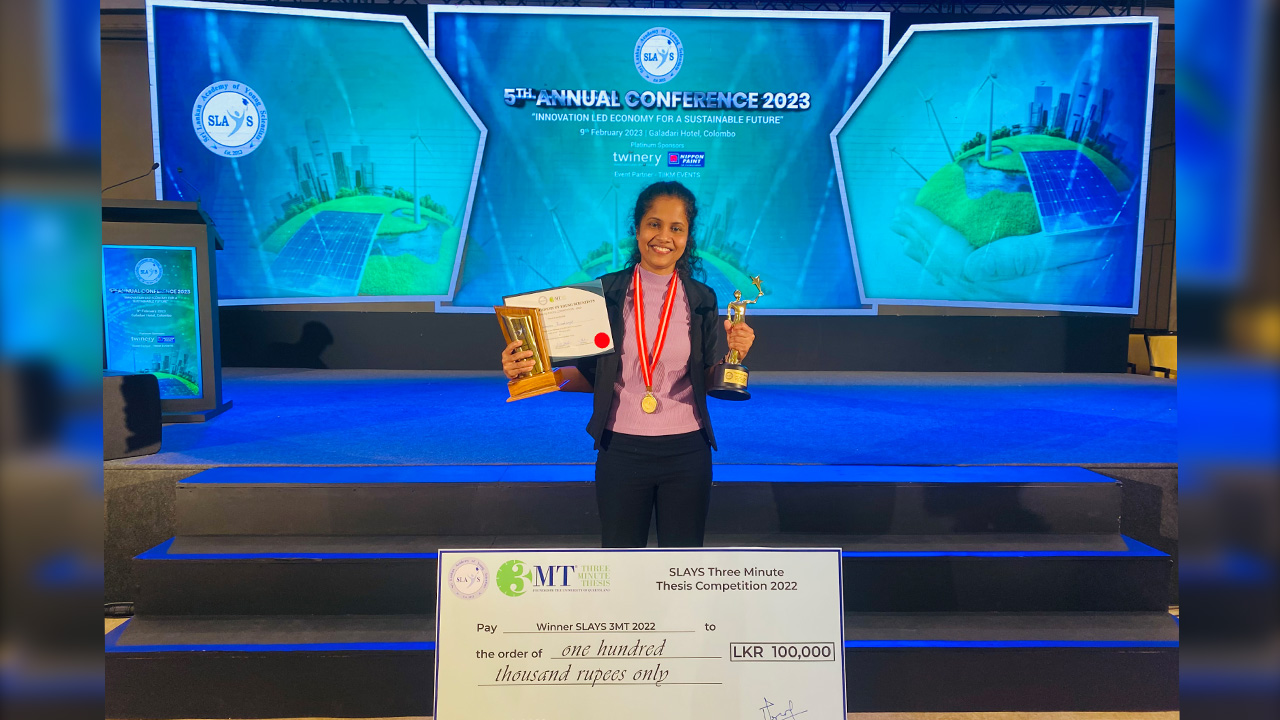 Ms. Kulangana Theivendrarajah, an M.Phil student of NIFS has won the first place in the Three-Minute Thesis Competition (3MT), organized by the Sri Lanka Academy of Young Scientists (SLAYS). The Finals of the 3MT thesis competition was held as a session of the 5th Annual Conference organized by the Sri Lankan Academy of Young Scientists on the 9th of February 2023 at the Grand Ballroom, Galadari Hotel, Colombo. Ms. T. Kulangana also won the People's choice award, receiving the highest votes from the audience present.
She is currently a Research Assistant in the Plant and Environmental Sciences research project of NIFS and she received her B.Sc. special degree in environmental conservation and management from University of Kelaniya.
The 3MT competition is a professional and highly engaging international research communication competition developed by the University of Queensland (UQ), and with its permission, SLAYS has been listed as one of the participating institutions for the conduction of this event. Following the successful conduction of the competition in 2017, 2018, 2019 and 2021 respectively, SLAYS organized this event for the fifth time. The competition held as a physical event in two rounds. The winner was chosen at the final round by an esteem panel of judges including Dr. Dilru Ratnaweera (Technology Innovation Leader at Twinery, Material Expert and Polymer Scientist), Dr. Ranil D. Gunaratne (Scientist, Chemist, Retired academic staff, Former Science administrator, Former chess administrator) and Dr. S. Tharanga Thoradeniya (Senior Lecturer, Faculty of Medicine, University of Colombo).