Finals of the Three Minute Thesis (3MT) Competition 2021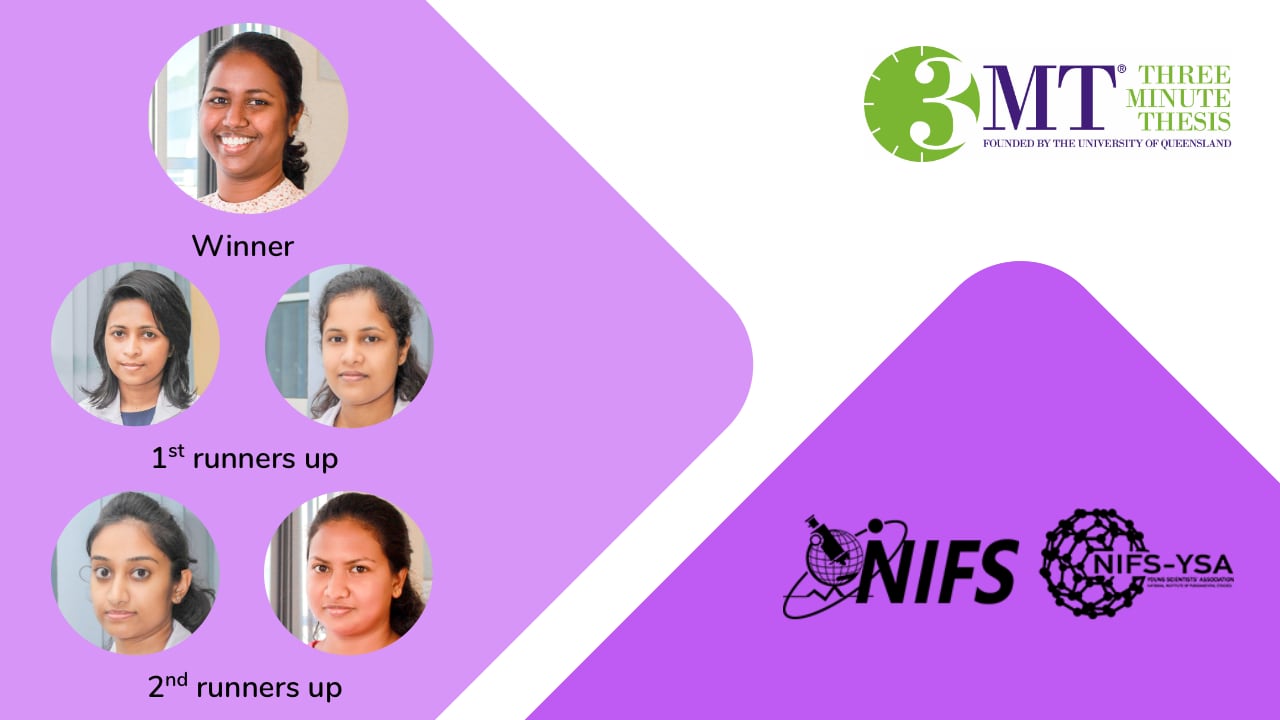 The finals of the Three Minute Thesis (3MT) competition 2021 organized by the Young Scientists Association of National Institute of Fundamental Studies (YSA-NIFS) Kandy was held successfully on 21st of December 2021 at the Cyril Ponnamperuma Auditorium of the NIFS. This competition was organized for the third consecutive year by the YSA-NIFS, to create a platform for the graduate student at NIFS to showcase their research in an informative manner to a non-specialist audience within three minutes. This competition gave an opportunity for the budding scientists at NIFS to develop their presentation skills and to communicate science in a language appropriate to a non-scientific audience, which would be immensely beneficial in their future careers. This year NIFS is celebrating its 40th anniversary and this prestigious event is organized as a part of the celebration.
The panel of judges of the finals comprised of Dr. A.M.T.A. Gunarathne, Senior lecture, Department of Botany, Faculty of Science, University of Peradeniya and Dr. Amalka Pinidiyaaarachchi, Department of Computer Science and Statistics, Faculty of Science, University of Peradeniya and Dr. Rajnish Vandercone, Senior lecturer Department of Biological Science, Faculty of Applied Science, Rajarata University Sri Lanka.
Jayani Kalinga is the winner of the 3MT completion with her presentation "Analysis of Secondary Metabolites in Five Endemic Medicinal Plants of Sri Lanka". There were two 1st runners up for the event: V.H. Harshani Nadeeshani and T. Kulangana. Merit awards were received by K.D.P. Upesha Siriwardana and B.S.K. Ulpathakumbura for their presentations.
View event photos launch