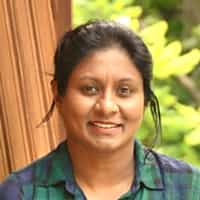 Dr. Dumindika Siriwardane
Scientist
Research Assistant in 2009
Where has your exposure at NIFS taken you?
I joined with NIFS as a research assistant - Natural Products Chemistry Group in 2009. This was a great avenue for me to broaden my skills, follow the science and drive discoveries while at the same time growing into a mature, independent researcher. This amazing place cemented the road to become an expert in a specific field one day and now I am contributing innovative science that impact the treatment of patients who are suffering from life challenging disease. I am so grateful for all the experiences and people I've had at NIFS.
"Have a passion to excel in whatever you do"