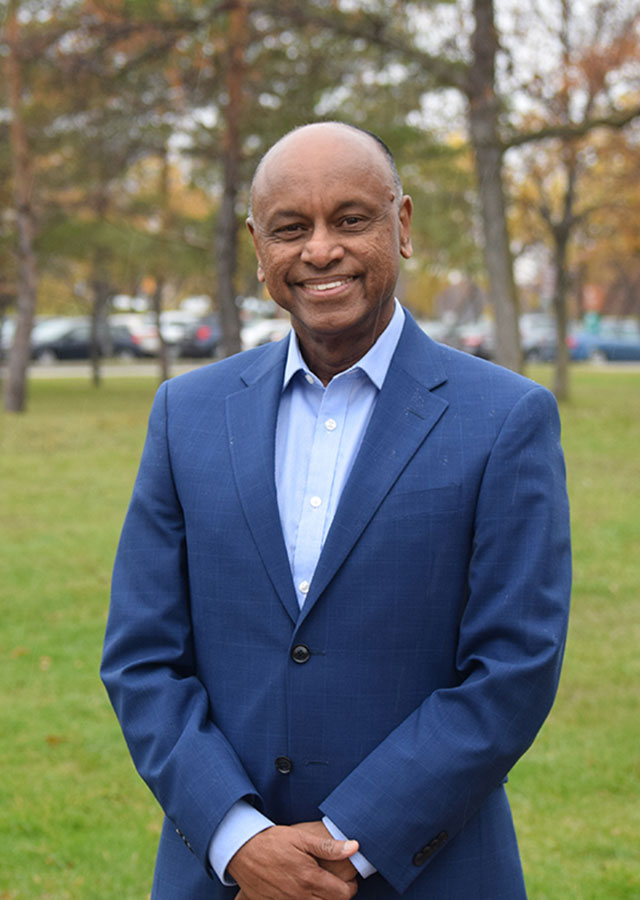 Prof.
Dilantha Fernando
Adjunct Professor
Adjunct Professor from 01.09.2019 to 31.08.2021
Professor Dilantha Fernando is the Dean, professor and plant pathologist at the University of Manitoba, Canada. He was recently elected a Fellow of the American Phytopathological Society in the USA, a rare honor bestowed on a Canadian scientist. He is the first Sri Lankan to receive this major recognition and honor. He also received the highest award for exemplary research towards sustainable agriculture just a few weeks ago from the International PGPR Community. Professor Dilantha is the current immediate Past-President of the Canadian Phytopathological Society and was the first Sri Lankan to be elected President of CPS the Canadian National Plant Pathology Society.
Professor Dilantha is a world renowned, plant scientist with focused research on Plant Pathology, Biotechnology and Microbiology. Prof Dilantha's program is world famous for its research contributions to host-pathogen interactions at the fundamental level, and understanding the mechanisms of biological control of plant pathogens with bacteria at the molecular level, understanding of the plant defense pathways and key genes expressed in defense against plant pathogens at the transcriptome level. Dr. Fernando's research also looks at Dual-RNASeq to understand the pathogenicity genes and how they are expressed between avirulent and virulent isolates on a host crop. Professor Fernando is also world renowned in the toxin (myco-toxins) produced by plant pathogens on economically important crops (wheat, barley and corn) and how they cause disease.
Professor Dilantha received his first degree from the Faculty of Science, University of Peradeniya and his PhD from Oregon State University, USA. He is a featured keynote or invited speaker at many international conferences (100 invited/keynote talks). Professor Dilantha has been internationally recognized with awards for excellence in research, teaching and service. He has published 148 peer reviewed papers and 14 book chapters. He has developed 38 canola cultivars with his co-developers. Professor Dilantha has trained over 75 graduate students and postdoctoral scientists at the University of Manitoba and another 68 undergraduate students. He is an editor to 6 international journals and editor in chief of one.
Prof Dilantha's research also focusses on climate change and its effects on crops and diseases. He is a leader in the field of plant pathology and recognized around the world. Professor Dilantha has received numerous prestigious awards during his career for exemplary research and teaching from the University of Manitoba, local, national and international organizations. In August 2019, the world's premier plant pathology society, the American Phytopathological Society in the USA awarded Professor Dilantha with their highest award, the Fellow award of APS.
View ORCID profile launch
Contact : Dilantha.fernando@umanitoba.ca